Knowingly or Unknowingly Mistake
By mistake people think that Bartenders and Mixologists are same. They think that there is no difference between them. Clients or guests on the other side of the bar can't tell the difference between a mixologist and a bartender. For understanding this, firstly we need to know what is Bartender and Mixologist.
MIXOLOGIST
Mixologists are not only create any old cocktails making persons but they are also the best in scientific cocktails creating. Mixologist is the one who design and make cocktails by using best quality ingredients and add sparks to the drinks with the style of garnishing well and serving in awesome way. They are the master of the art of communication, personality and creativity. Mixologists have superior knowledge of liquors . They are the creators of fabulous, amazing cocktails.
MIXOLOGIST WORK
Design the cocktails that are in trend or seasonal. They keep trying to create something new creative craft cocktails.
Do preparation for making home made Syrups, bitters and other ingredients that require for cocktails.
Choose ingredients which need behind the bar that are high quality. Most of the time they develop their own receipes.
Do their work in a nice and presentive way before the arrival of guests. By their creativity they add wow fact in the bar.
Mixologists have complete set of quality bar tools. They are incharge for maintaining the bar well stocked and complete supply with alcohol and keeping records all records related to bar.
mostly a mixologist will serve as the head bartender or the bar manager at bar. In this way they supervise bartenders .
They are keep updating themselves about the cocktails trends. They have full knowledge of what's famous and what's new in the industry.
BARTENDER
A bartender is fully concentrated on his guests , always try his best to make them happy, makes them feel welcome, entertain them. Bartender treat his guests like a friend. He makes amazing drinks for his guests . Bartenders are talented , multitasking , smart, well mannered , friendly and know how to manage the bar properly. They can handle crowded bar nicely. They think quickly and serve many people at once.
BARTENDER WORK
Bartenders greet their customers, show them menu or display card and tell them what's special cocktails or drinks in today's menu.
A perfect bartender has absolute knowledge of making all quality cocktails and drinks. Bartenders create awesome cocktails by the Mixologist's receipes.
Bartenders should have good service habit. They should be able to work in a crowded bar and serves drink quickly to the guests.
Bartenders are hope for to be pleasent , charming and attractive. They must be able to communicate well with the clients.
Bartender can suggest cocktails and mixed drinks to the guests who are not sure about what they want.
Bartenders ( work in bar or work freelance) are responsible for maintaining an inventory of all liquors, mixers and other bar supplies like ice cubes, slab ice , Garnishes.
sometime bartenders can only pour and serve wine , beer, and other drinks.
CONCLUSION
bartender and a Mixologist both have knowledge of what's going in to a cocktail. At last we can say that according to a popular opinion, all Mixologists are bartenders, but not all bartenders are Mixologists. This makes a major assumption. Mixologists and Bartenders are looking same but they are not. No doubt both of them are doing their work properly but it seems that furthermore the mixologists know the reason why each ingredient need to go into a cocktail. This knowledge makes a mixologists just a step up a bartender.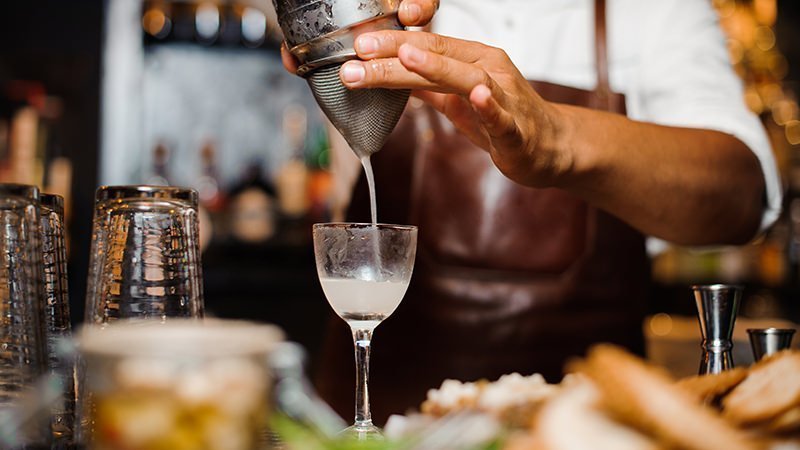 Chee?rs