We usually associate student parties with beers flowing and dancing till the morning. But the reality is that more and more people are giving up alcohol, both temporarily and permanently. Some can't drink for health reasons, some will be driving, and most lead such a busy life that they simply can't afford to suffer from a hangover the next day. So, which cocktails can you make if neither you nor your guests plan to drink?
Shirley Temple
Perhaps Shirley Temple is the most famous mocktail. This drink is named after a Hollywood star who became famous for her childhood roles. The thing is, Shirley (born in 1928) became and was a Hollywood star primarily in childhood, and it would be weird to invent an alcoholic cocktail for her.
Apparently, this drink appeared immediately after the end of Prohibition. You can share this interesting fact with your friends. And if you accidentally overstayed your welcome and your homework deadline is approaching, just order custom writing at EssayPro to hand in the task on time. This way, you will manage everything, from attending parties to keeping your grades under control.
Usually, Shirley Temple is a highball that consists of ginger ale or lemon-lime soda (or even a mixture of both) and a couple of dashes or teaspoons of grenadine. A few maraschino cherries are a common decoration.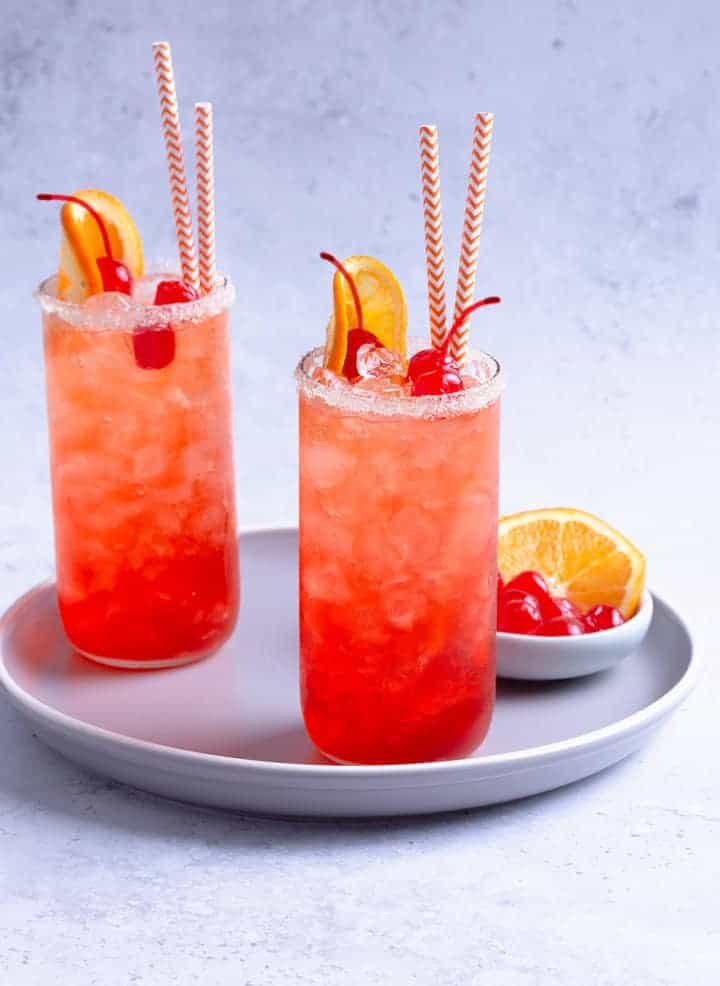 Ingredients:
Ice
Grenadine
Ginger ale
Lemon juice from several slices.
The recipe is simpler than ever. Pour grenadine into a glass with ice. Then, add ginger ale, squeeze the juice from several lemon slices, and put them in a glass. Mix it all up.
Sea Breeze
The first recipe for a cocktail called Sea Breeze appeared in the US in the 1920s, right at the end of Prohibition. But at those times, it was a completely different drink which consisted of gin and grenadine syrup.
The name was made up by a journalist who tasted a drink in a closed New York club. He couldn't describe the recipe because of the prohibition. Instead, he used a metaphor: "A cocktail that makes you feel the wind while sitting on the seashore."
In the 1930s, Sea Breeze was enriched with apricot brandy and lemon juice. The modern recipe appeared in the 1950s when the largest manufacturer of cranberry juice began to promote its products as a component of alcoholic cocktails. By the way, why not manage your school overload by watching films that mention this cocktail? They are "Scent of a Woman" and "French Kiss."
Ingredients:
Cranberry juice.
Pineapple juice.
Ice.
Mint for garnish.
Mix equal amounts of cranberry and pineapple juice and shake everything in a mixer. Then, pour the drink into a glass. Serve the cocktail with a sprig of mint. And forget about the ice!
Sex On The Beach
This cocktail gained popularity back in the 1980s when movie stars on TV screens sipped a refreshing bright orange drink from a misted glass. Basically, the cocktail owes its fame to the unforgettable "Santa Barbara" series.
Here's the version of how Sex on the Beach appeared. As the most popular one says, it was created in 1987 in Florida, Fort Lauderdale. A company had to promote their new product, peach schnapps. So, it announced a contest: the bar that sold the most peach schnapps would receive a $1000 bonus, and $100 more for the bartender.
The winner was a young bartender named Ted Pizio, who offered guests a cocktail that included vodka, peach schnapps, orange juice, and pomegranate juice. The students who were on vacation in Florida liked it at once. In fact, you can experiment with this cocktail. The main thing is to use working tips for time management, unload your schedule, and gather a fun company of friends.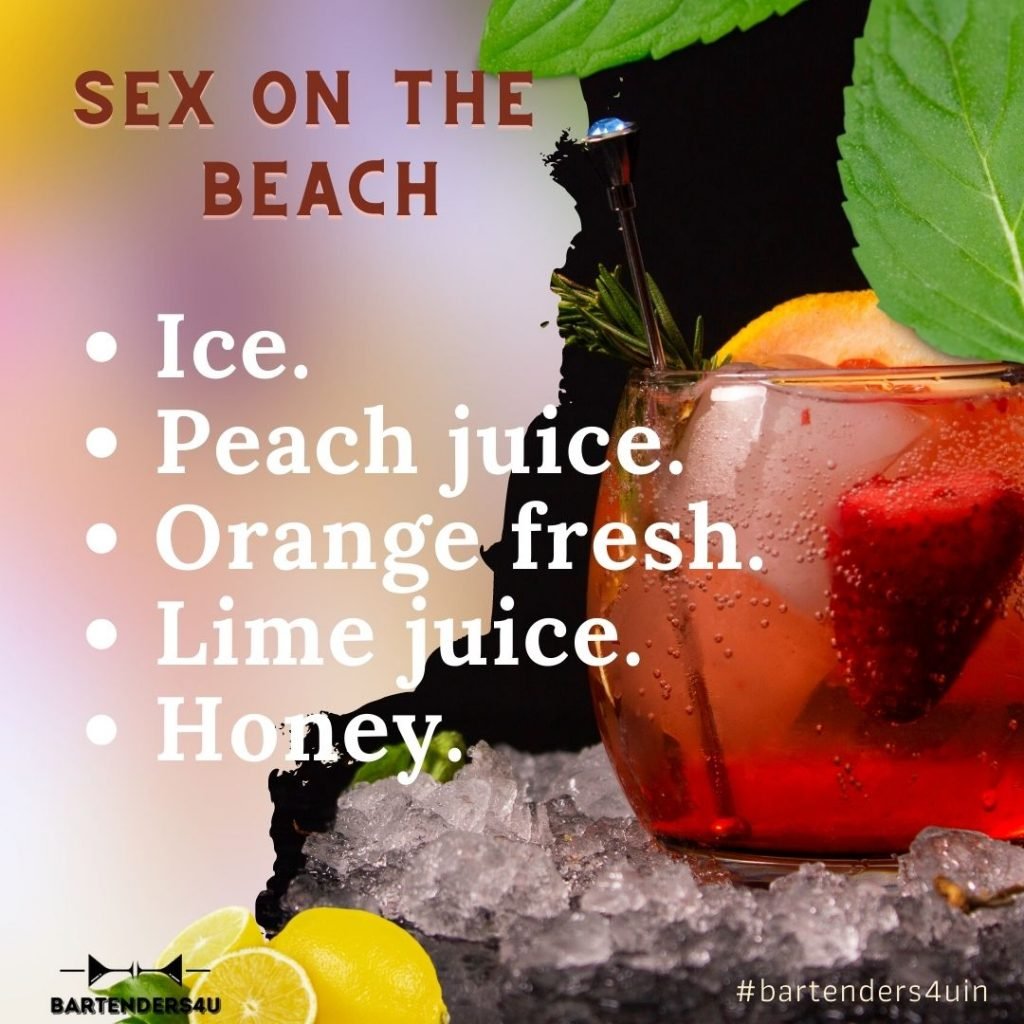 Ingredients:
Ice.
Peach juice.
Orange fresh.
Lime juice.
Honey.
Pour ice up to half of the shaker. Add 50 ml of peach juice and 150 ml of orange juice. Add the juice of half a lime and two teaspoons of honey. Shake it all and pour it into a glass. Garnish the drink with an orange slice and a cherry.
Pina Colada
Some believe that Pina Colada was invented by bartender Ramon Marrero, who worked in the Caribbean. It happened in 1954. The bartender experimented and once created Pina Colada, which the visitors really liked. A few years later, the recipe made its way to the US and Europe.
The second version states that Pina Colada was born in Puerto Rico.
And third, some believe that the cocktail's prototype appeared in 1820. The captain of the Caribbean pirates gave his crew a drink to improve their humor. And this drink consisted of coconut milk, pineapple juice, and rum.
Ingredients:
Honey.
Pineapple juice.
Coconut milk.
Beat ice, pineapple juice (it should be two times more than coconut milk), and coconut milk in a blender. Serve in martini glasses.
Eggnog
In 13th century Britain, monks often drank a posset, a type of warm punch made from ale, eggs, and figs. Over time, the recipe began to include wine and milk. Thus, the drink was nutritious and fun.
Sherry, flavored with milk and eggs, became the main ingredient by the 17th century. Interestingly, all these ingredients were expensive, and sherry was also rare. Only prosperous people could afford it.
Together with the first settlers, posset came to the New World, and sherry was quickly replaced with rum. It was much easier and cheaper to get it than exotic Spanish sherry or drinks from Britain.
The settlers had enough milk and eggs, and the drink with rum quickly gained popularity among people of all social classes. And then eggnog gained its name. In fact, many say it's as easy to make as college lunches, and it's filling enough. And perfect for Christmas parties, of course.
Ingredients:
4 eggs.
Sugar syrup.
Vanilla extract.
Cinnamon.
Cardamom.
Cloves
Milk.
Whisk four eggs in a large bowl, add 50 ml of sugar syrup, a teaspoon of vanilla extract, 1/2 teaspoon of cinnamon, cardamom, and cloves. Blend everything with a whisk. Then, pour in 600 ml of milk, continuing to stir the cocktail. Serve in chilled glasses.
Key Takeaways
Taking a break from drinking alcohol, you may find yourself thinking: what can I replace it with? Fortunately, the world of soft drinks is so diverse that you can easily find alternative ways to have a good time.
Non-alcoholic bars are opening around the world, and more and more people are getting better at making such drinks. After all, they suit everyone, regardless of the time and event. We hope our article will encourage you to try something new, so go ahead!